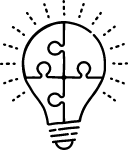 Techniques
All our learning techniques are experiential in some form. Personal experiential learning is about making the connection between understanding theory and putting that theory into an immediate, meaningful practice. Our professional role-players are trained actors and bring a sense of reality to each interaction. We provide a combination of:
improvisational ability
performance skills
group facilitation skills
a supportive coaching style
an understanding of the client's learning objectives
Skills Practice (sometimes called 'real-play')

The participant sets the brief – it is entirely 'bespoke'. With a focus on their learning objectives, the participant receives a highly personalised learning experience. The participant does not 'act' or 'role-play' at all. They are encouraged to be themselves whilst trying new strategies and behaviours. In fact, a Course for 12 participants becomes 12 personalised learning experiences.
We encourage participants to step out of their comfort zone by providing:

a highly skilled 'coaching style' which supports and challenges the participant
a safe environment in which to try something new, with full confidentiality
a small group session which creates a supportive environment where all can learn from each other

This technique is one of the most feared sessions we run! That fear is from apprehension about the unknown but after a few minutes that feeling turns to excitement as the person literally 'feels' the difference and hears the immediate feedback. Time and again the participant's appreciation is reflected in very positive feedback.

Role-play

This is the classic technique used in many Assessment and Development Centres. The role-player is given a carefully written scenario which challenges the participant in specific ways, for example: handling a client problem; building a client relationship; winning new work; giving feedback; coaching a member of the team. Underpinning these observed interactions are a set of competencies against which the participant is measured. In this context the professional role-player will be:

thoroughly briefed on the commercial/technical context of the scenario
realistic and authentic in their portrayal of the client or staff member
maintain a high degree of consistency across the interactions between different participants
provide feedback which is in keeping with the competencies required from the participants

Forum Theatre

We create a short, scripted performance which reflects the themes that are relevant to the audience and the client. The actors perform the piece and then the audience are invited to interact with the actors. They make suggestions on how the characters could have handled things differently, or 'hot-seat' a character to find out what that character is thinking. The scene runs again in an improvised way being guided entirely by the audience suggestions. From a safe seat the audience can concentrate on the theme or issue and comment freely.

This technique encourages a wide-ranging debate on personal and professional challenges common to the audience. It is particularly useful when looking at behaviours at times of pressure or change.
The strength of Forum is that many different approaches can be tried out in front of the audience and everyone can experience how those ideas may work in practice.

Video

We provide a complete service when it comes to the creation of a video for our clients:

Consultation with the client to define what they require from a video.
Research interviews with key client staff to inform our writer about the client's own culture and terminology.
Script writing service; we regard this as the key component in the creation of a successful video.
Casting and rehearsal process with client involvement to make sure that the actors capture the nuances required.
Full production crew to handle the shoot and the all-important editing process.

Our emphasis is to work with the client to deliver a high quality and cost-effective video tool for the required training or communication purpose.

Performance

Clients often ask us to bring events, group sessions or presentations to life! We can create a scripted performance which conveys key messages and forms the basis of a shared experience for discussion by the delegates.

By incorporating elements of fun through games, music and comedy we can engage with staff to boost morale and turn a conference into a real shared event.

Simulations

Our creative team will work with you to create a series of interactions which immerse the participants in situations and challenges which simulate their own work environment – but with a twist!

See the service from the customer perspective! We created key points in a 'customer journey' with the staff taking different roles from within their own organisation.
So you want to be a supervisor? We created a series of 'interactions' which invited the participants to experience what it might be like to take on a senior role for a day!
Industrial Health & Safety incident. We created an incident and provided all the various characters who needed to be interviewed by trainee H&S reps.