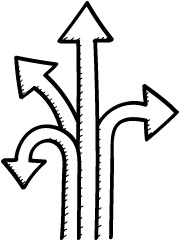 Coaching
We provide one to one Impact Coaching support for Managers and Senior Executives to develop their communication skills and to enhance their impact as Leaders.
This is particularly valuable for individuals who:
want to enhance their impact as a leader
face increased demands from a changing business environment
seek to understand and build on feedback they have received
are preparing for an important meeting or event
are preparing to deliver a difficult message
are seeking a promotion or a new position and want to land the right impact
The guiding principle of this type of coaching is to help the person find their own level of skill and comfort to achieve their goal. The action from this Coaching approach often involves finding ways to tackle self-generated doubts. Our approach has its roots in the performers' skills of observation, reflection and reaction. It is above all a practical approach to enhance an individual's leadership qualities the business environment.
For those who want to succeed, we provide a confidential sounding board and an opportunity for growth that is not only quick to achieve, but likely to provide long lasting benefits.
8 DLA professional role-players hold Coaching Diplomas/Certificates at individual practitioner level accredited by ILAM, ICF or EMCC.
They regularly work as Coaches at Partner and Director level within Professional Services Firms and at Board level with Directors from Commercial organisations in a variety of industry sectors.
In addition, most DLA professional role-players have experience as personal impact specialists with extensive experience of delivering with either a group or on a 1-2-1 basis.